How Do You Make Money With Raspberry Pi? (Top 10 Ideas)
Teaching others about Raspberry Pi concepts like programming
Making a Raspberry Pi prototype that will resolve an issue
Creating a Raspberry Pi project for someone else
Making a YouTube channel on Raspberry Pi
Writing a Raspberry Pi related book
Creating software that helps users with their Raspberry Pi
Using your expertise for Raspberry Pi consultation services
Utilizing your Raspberry Pi to capture data to sell
Using Raspberry Pi to mine cryptocurrency
Becoming a freelancer
1. Teach Raspberry Pi concepts like programming or electronics to others

Udemy
Coursera
Skillshare
Pluralsight
How to navigate the command line in the terminal
Best programming practices
Python
Scratch
Downloading games
2. Make a Raspberry Pi prototype that will resolve an issue

Is there any demand for the product?
Who is your competition?
What is your financial plan for this project?
Do you have the necessary financial resources to back it up?

If not, are you able to find investors?

Can it be produced? If so, how hard will it be to produce it?
How will the product be delivered to the customer?
How long will it take for the product to be delivered.
Ideation and Concept

You're basically trying to locate the problem and explore the different potential solutions you could take.

Market Research

You are determining the size of the demand for your solution in the market. You want there to be a demand so that you know the project is worth it before starting.

Business Plan

You'd want to determine all the economic factors such as cost of product, shipping, manufacturing, advertising, etc. You want to make sure your product will be justified in its price so people are more willing to buy it.

Prototype

This is the part where you actually create a physical mockup (or prototype) of the solution.
You want to test this repeatedly and then show it to investors and manufacturers, so they can get behind your work.

Crowdfunding

This stage is basically a proof-of-concept. Your product isn't ready yet, but you are trying to get feedback from the market and see if the demand is there in real life.
Moreover, you can raise additional funds (which demonstrates demand), and you can perfect your sales pitch.
There are great crowdfunding sites like Kickstarter, Indiegogo, and GoFundMe.

Design and Production

This is like the final draft. You're perfecting the design from what you've learned from the crowdfunding and prototype phase. You're also writing the technical specifications and getting a patent for your design so no one can steal it.
You can also work on packaging that appeals to consumers.

Marketing and Distribution

Now you're actually mass-producing your product and selling it to as many people as possible.
3. Create a Raspberry Pi project for someone else

Moreover, you'll need to market yourself so that people will pay you for your service. Check out option 10 for more explanation.
4. Mine for cryptocurrency with Raspberry Pi

Mining for cryptocurrency may seem like the easiest, most passive way to make an income, yet the amount you earn over time isn't too profitable. I included this on the list because it seemed like a fun way to introduce you to the world of cryptocurrency and understanding how blockchains worked.
If you want to give this a try, then you'd need your Raspberry Pi, the accessories that come with it, and a crypto wallet.
If you want to get started with cryptocurrency mining with Raspberry, check out my guide on Raspberry Pi cryptocurrency mining. It contains easy, doable steps you can utilize to make some money. I'll also explain cryptocurrency basics and why you won't be making much money with this method.
You could also buy lots of Raspberry Pi to increase the amount of cryptocurrency you'd mine, but it's not a good ROI (Return On Investment).
5. Make a YouTube channel on Raspberry Pi

6. Write a Raspberry Pi related book

7. Create software that helps users with their Raspberry Pi

Determine a problem

You can find some problems in the Raspberry Pi forum.
You can also fix a problem you've had when you worked on a Raspberry Pi project

Identify a demand for your solution
Create a software tool that will provide that solution
Test it (repeatedly)
Finalize the product
Advertise your product
Sell or monetize it
You can put ads on your site.

However, this depends on the number of users using your site, so you'll need to make a service that many people will use.
Use companies like AdSense, Mediavine, Ezoic, etc. to get compensated based on the number of people that view the ads placed by these advertisement companies.

You can use affiliate links.

For example, you can create a project hub containing all the builds containing Raspberry Pi. Users could scroll through the list and choose which project they want to undertake that looks cool. Next, you could list the components the users would need to buy for that project. Then, direct them to Amazon with your affiliate links and get paid!
8. Use your expertise for Raspberry Pi consultation services

9. Utilize your Raspberry Pi to capture data to sell

10. Become a freelancer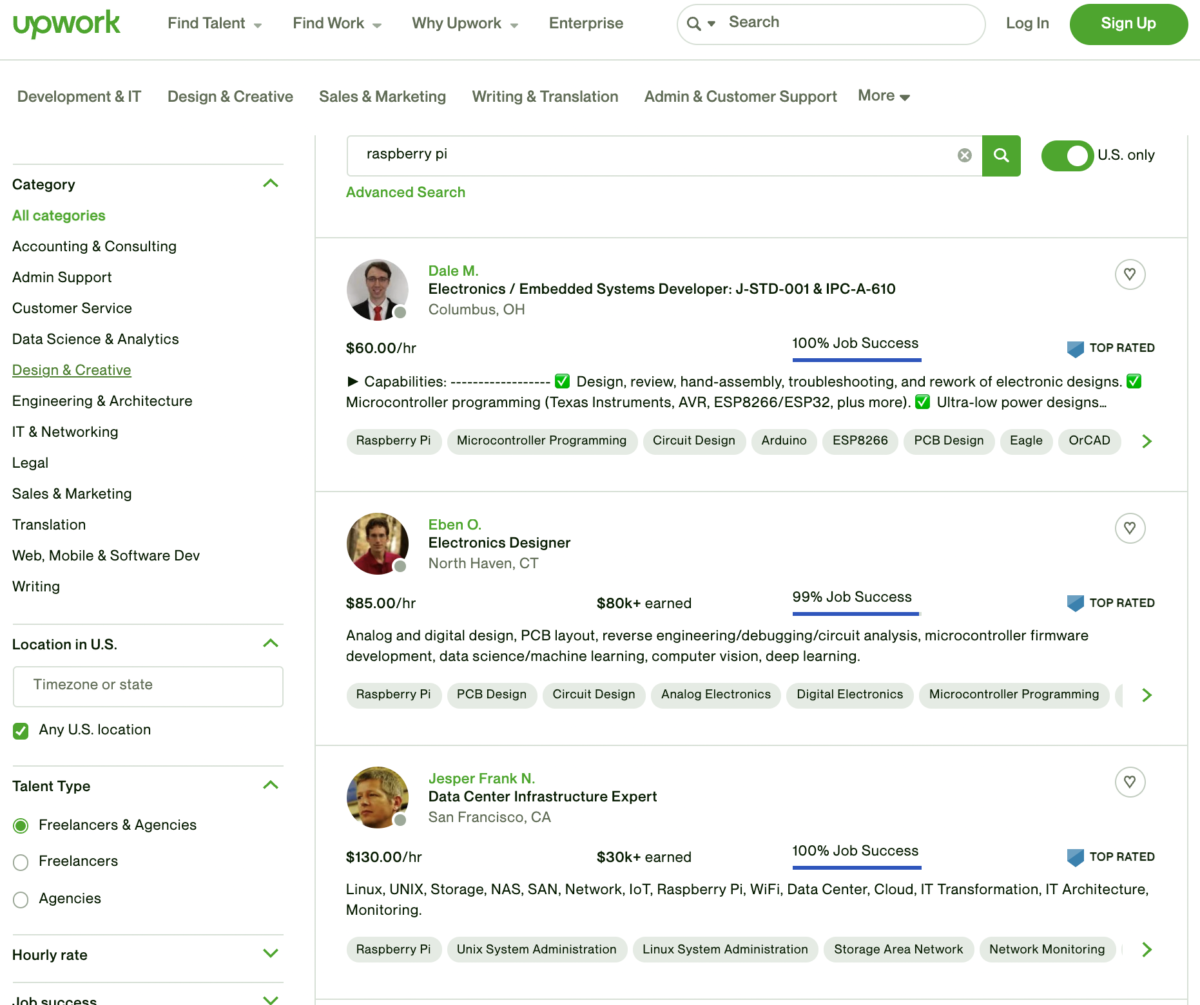 Upwork
Fiverr
FlexJobs
SolidGigs
Freeup
Toptal
GURU
Freelancer
PeoplePerHour
Hubstaff Talent
Creto
Outsourcely
Summary – tl;dr (Too Long; Didn't Read)
Once again, the 10 different ways you can make money with Raspberry Pi are by:
Teaching others about Raspberry Pi concepts like programming
Making a Raspberry Pi prototype that will resolve an issue
Creating a Raspberry Pi project for someone else
Making a YouTube channel on Raspberry Pi
Writing a Raspberry Pi related book
Creating software that helps users with their Raspberry Pi
Using your expertise for Raspberry Pi consultation services
Utilizing your Raspberry Pi to capture data to sell
Using Raspberry Pi to mine cryptocurrency
Becoming a freelancer
In the end, I hope one or more of these tips will pay off for you!